Looking for ways to celebrate the wonderful month of November (besides an overdose of turkey & stuffing)? CELEBRATE ADOPTION MONTH!
According to the North American Council on Adoptable Children
, "The primary purpose of Adoption Month is to raise awareness about adoption, adoptive families, and children who need adoptive
homes. If done well, awareness raising efforts represent adoptive families in a positive manner."
There are many ways to promotie adoption. Some take little thought or planning; some take more, but it's easier than you think. Don't let November pass without doing something to acknowledge the importance of adoption in your life. Here are eight, great ideas:
1. INTRODUCE THE SUBJECT OF ADOPTION AT YOUR CHILD'S SCHOOL OR DAY CARE
Go to your child's classroom and read your favorite book about adoption. Donate books about adoption to the library. Talk with your child's teacher about adoption friendly projects and provide the teacher with adoption resources.
2. SEEK MEDIA ATTENTION
OK, be careful here. No, don't head down to the news station with a sandwich board or lurk at the newspaper office building. But consider writing a letter to the editor of your local paper explaining the positive ways adoption has affected your life, and even offering resources for further information. Ask your local TV station to run adoption related stories. By law, broadcast media must devote time and resources to various sorts of public service announcements. (This one requires some planning ahead. Contact the station's public affairs department, and maybe next November they'll have things in place to run adoption announcements.)
3. SPREAD THE WORD
One family has made a tradition of sending out a different pin every year to friends and relatives with a note that says, "Help us celebrate Adoption Month by wearing this pin to increase awareness of adoption." Other parents have worn buttons with photos of their children and offered to speak about adoption at the their workplace, church, or another community venue.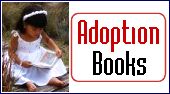 4. CONTACT LIBRARIES & BOOKSTORES
Ask them to feature November as Adoption Month. During their story times for children, ask that they include age appropriate books about adoption. And "Adoption Hour" would be a great way to introduce adoption in a positive way to other children in the community.
5. REMEMBER THOSE WHO HELPED WITH YOUR ADOPTION
Send a photo and letter with an update and expression of gratitude to those involved with your adoption. Send a card to the Social Worker who did your home study. Send a note to the hospital where your child was born. Make a contribution to the agency or orphanage that handled your adoption. Send a special card to your child's birthparents. Volunteer some time at an adoption related charity.
6. INVOLVE YOUR FAITH COMMUNITY
Start thinking of families in your church or parish who have been touched by adoption. Have dinner together to celebrate each other's miracles!
7. START A LIFE BOOK FOR YOUR CHILD OR UPDATE YOUR CHILD'S LIFE BOOK
A Life Book tells a child's life story - through their eyes. Beth O'Malley, author of the book "Life Books: Creating a Treasure for the Adopted Child", has said that a LifeBook creates a record expressed through words, photos, graphics, the child's artwork, and memorabilia. It honors every minute of the child's life. A true treasure!
8. INCORPORATE ADOPTION INTO YOUR EVERY DAY LIFE.
Talk positively about adoption on a regular basis. Include your child's birthparents in prayers, when appropriate. As always, reading stories is a great way to communicate suject matter in an age appropriate format. "Little Miss Spider" (by David Kirk) has become a favorite in our home... It tells the story of a spider looking for a mother that looks like her, until she realizes a beetle named Betty, who "loves her best", yet looks nothing like her, is her 'real' mother.
Whether you read an adoption story in your home or at your school, start an adoption hour, or launch a media campaign, be sure you celebrate November as National Adoption Month. You - and your child - will be so glad you did!